"What makes us confident in our work is not only the long lasting experience and professionalism of the whole staff, but also the fact that we successfully meet the requirements of our clients. We are grateful to all who has chosen us as their partner."
Stoyan Stoyanov

"We can assure everyone that we shall continue to work very hard, fast and according to the quality standards, thus satisfying the needs of all our clients."
Dobrin Bayraktarov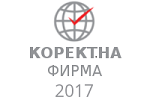 Plastform OOD was established in 1993 in the town of Gabrovo. It develops continuously since then to meet the growing requirements of clients and market.

А wide range of bottles, boxes/jars, tubes and caps of HDPE, PP, PVC and PET applicable in different fields of the industry is manufactured in our company.